Updated 4-17-17
Hand Engraved, 8mm wide, 14K Deep Red Gold .... Sculpted in Deep Relief.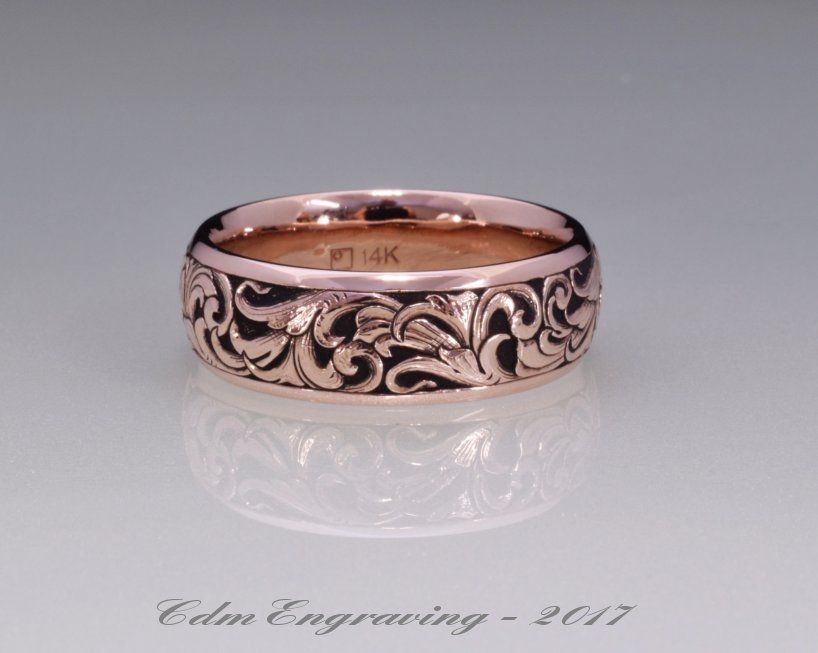 ---
Hand Engraved Punjabi Monogram (Letter J) Ring in 22k Gold
The best part of custom creation is learning something new! When asked to recreate this letter in gold on a ring, I naturally had to learn a little more about this state in northern India and its' history. Sikh architecture and craftsmanship is truly fantastic!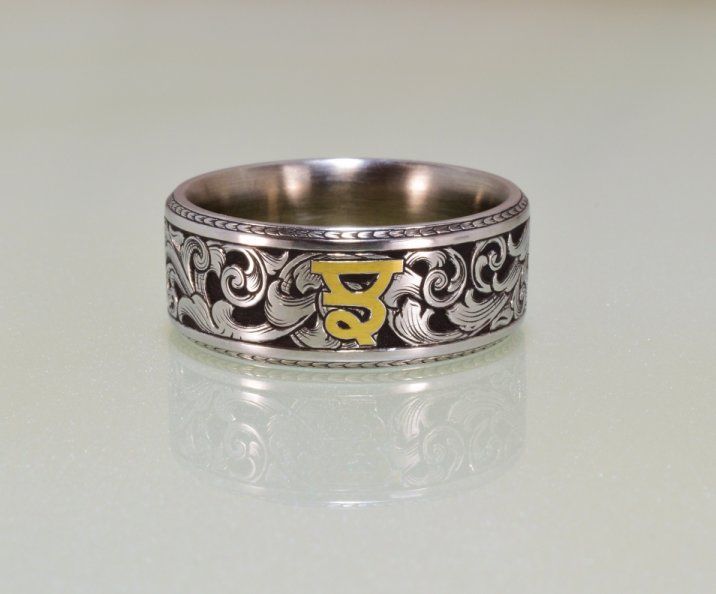 ---
An old design on a new ring! Titanium with powder coated black background.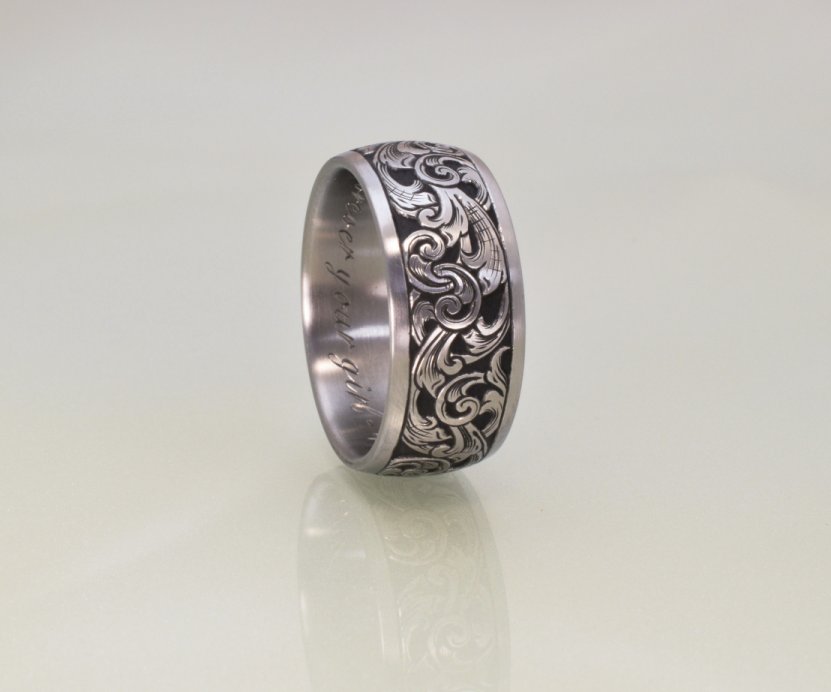 ---
This project is very special to me as I had an opportunity to create a pair of wedding bands for the talented wildlife artist Stephany Chavez who recreated my favorite photo in charcoal of my boxer that passed away on October 5, 2015. Stephany did a fantastic job capturing my best friend!! Below are the rings photographed with the portrait, the rings by themselves, and of course, the framed portrait on my wall. Owning work by a client of such an important subject makes this the greatest piece of art I own!!!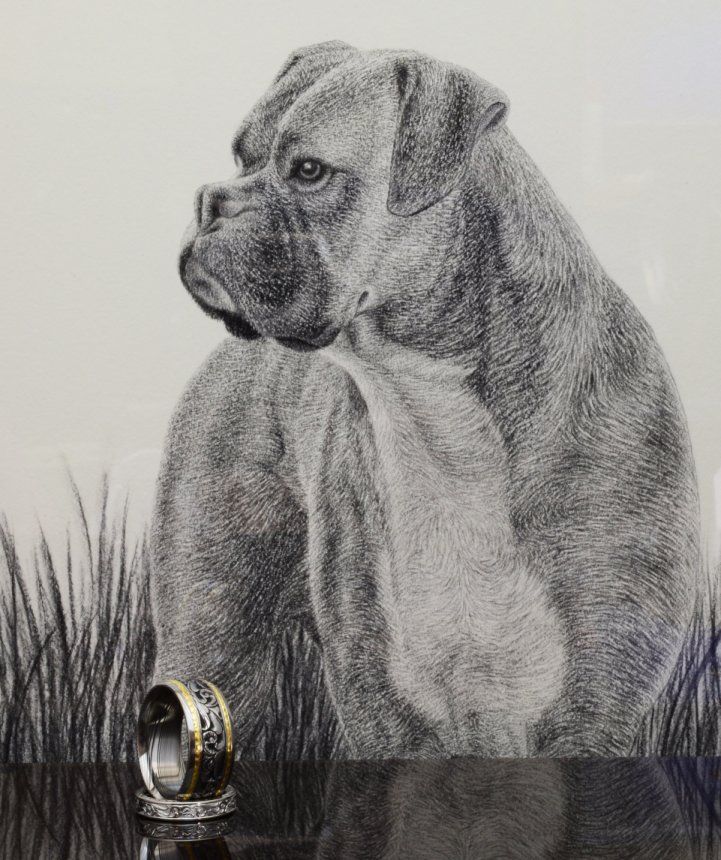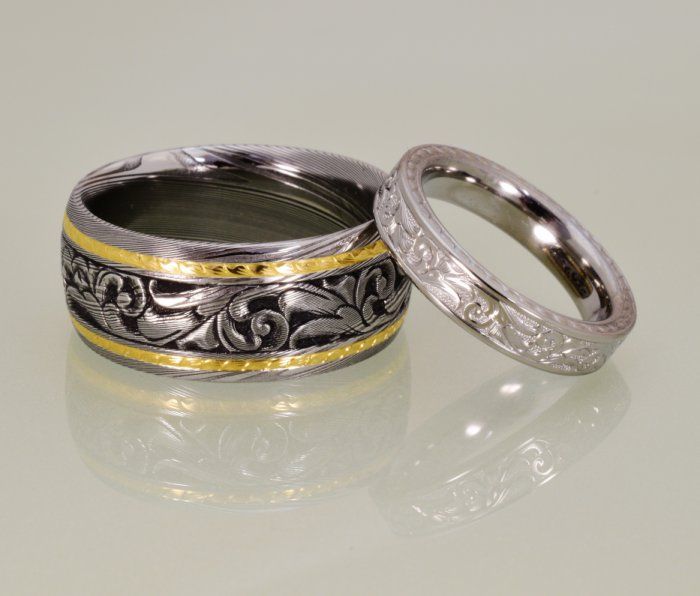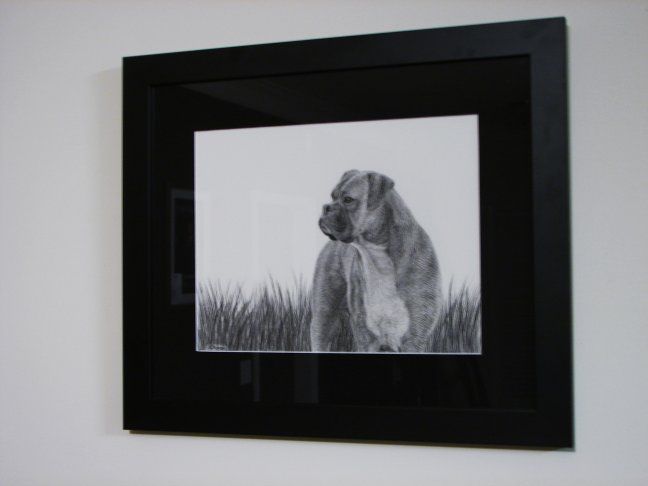 ---
Hand engraved, sterling silver steampunk wedding band...
360 degrees of skulls, gears and chains! A very fun ring to design and cut - engraved in deep relief and oxidized darkened.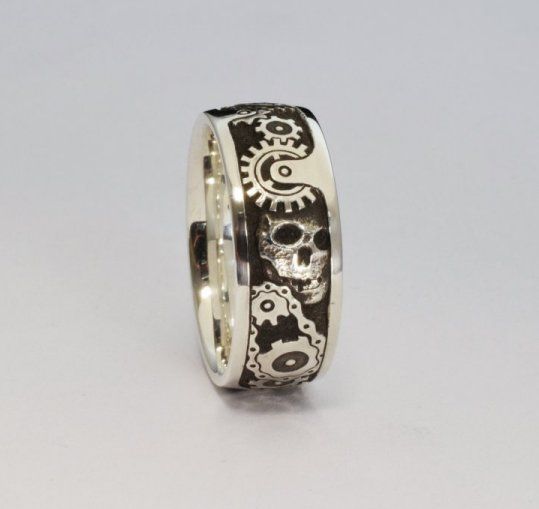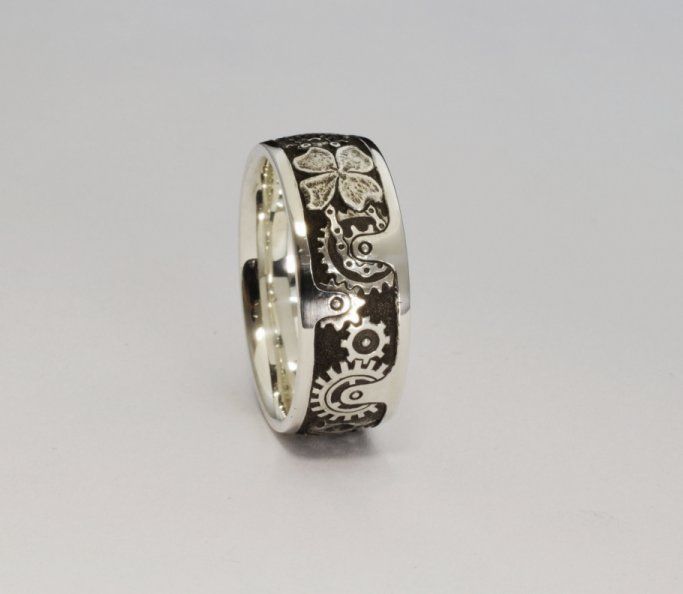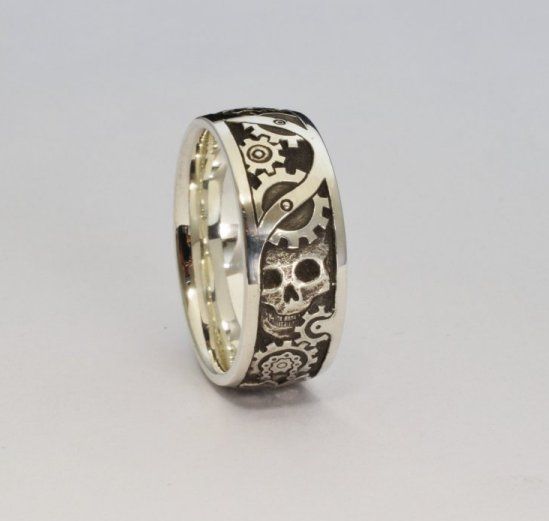 ---
Hand engraved, 14k white gold, wedding band...

---
All Items on this site are hand engraved ....

Absolutely No Mass Production, Machines, Lasers, Computers or Other Ulterior Motives Used.

Contact email: This email address is being protected from spambots. You need JavaScript enabled to view it.
Phone: 781-789-2877
---
Clint's Hand Engraved 12mm Titanium Wedding Band with Diamonds...
Sculpted Scroll Engraving in Deep Relief with six, flush set, 2.6mm diamonds. Diamonds were customer supplied and recovered from an old family piece.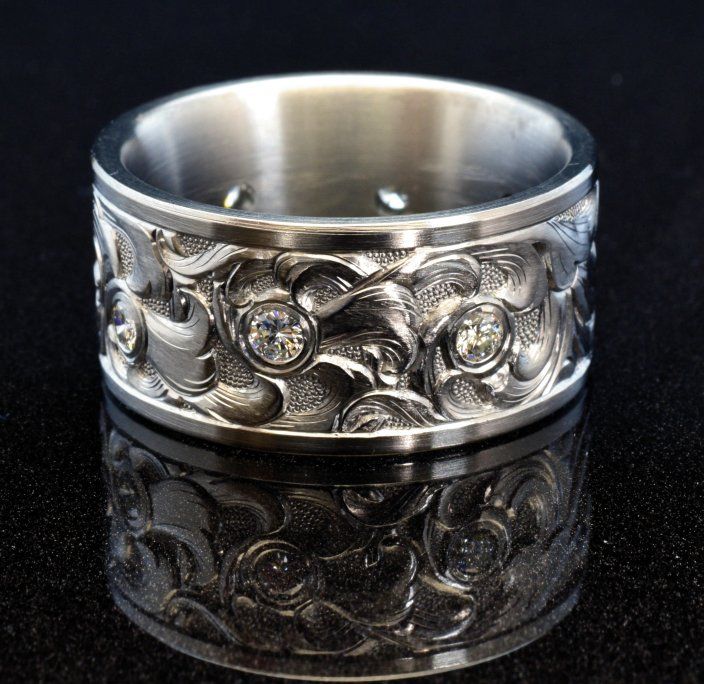 ---
Hand Engraved, 18k White Gold & 5mm European Cut Diamond Engagement Set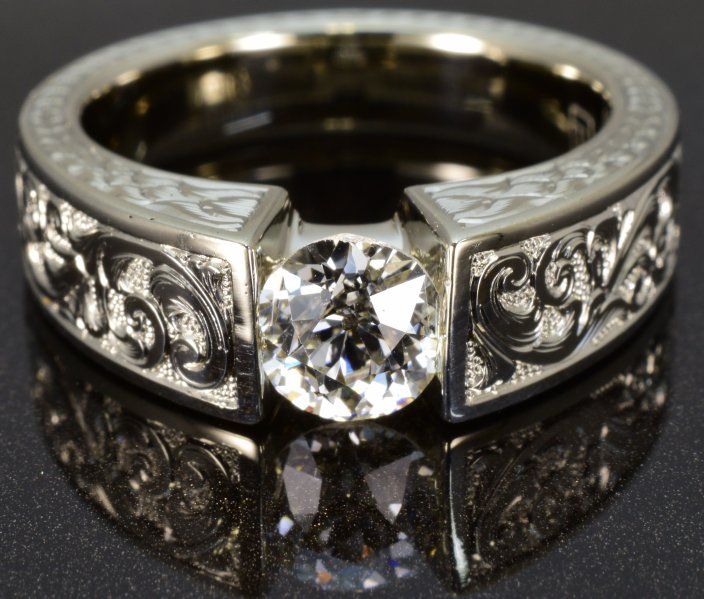 ---
Engraved Starlingear Skull Ring in Sterling Silver
American style engraving in mild relief, finely beaded background and oxidized.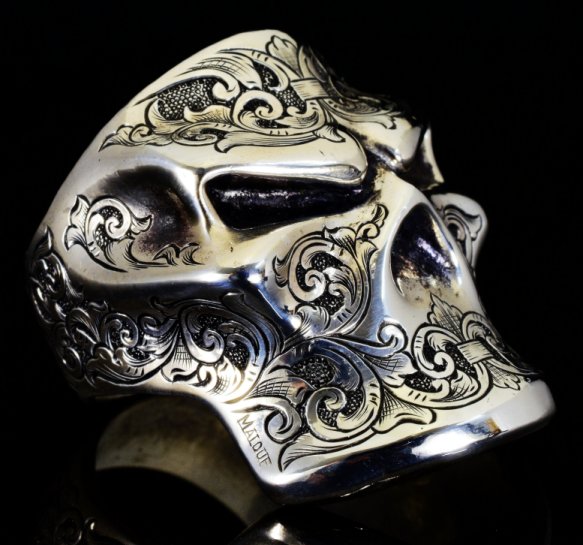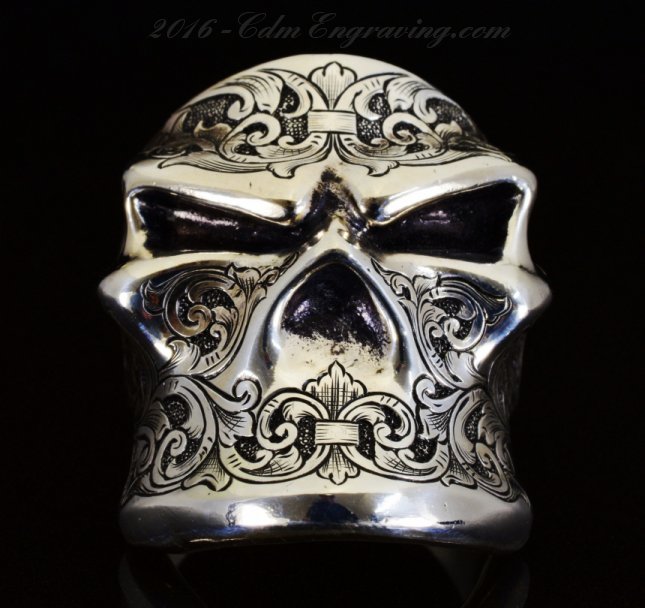 ---
Having some spare time fun engraving this Tiffany & Co. sterling silver men's roller ball purchased at the Copley Plaza store in Boston. After working closely with this under a microscope, it is truly a fantastic quality pen and a pleasure to work with. Available soon.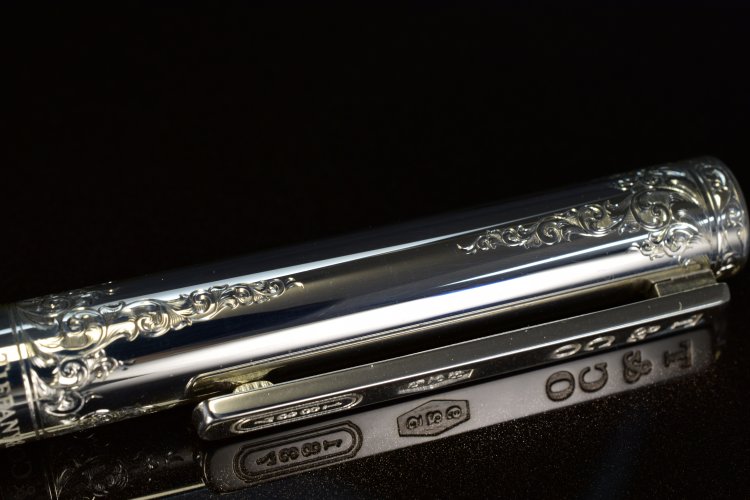 ---
Colorado Mountain Skyline ring ...
Seven SI1 diamonds set in Damascus and platinum. The central 3.8mm diamond represents the moon rising between platinum covered peaks at nite.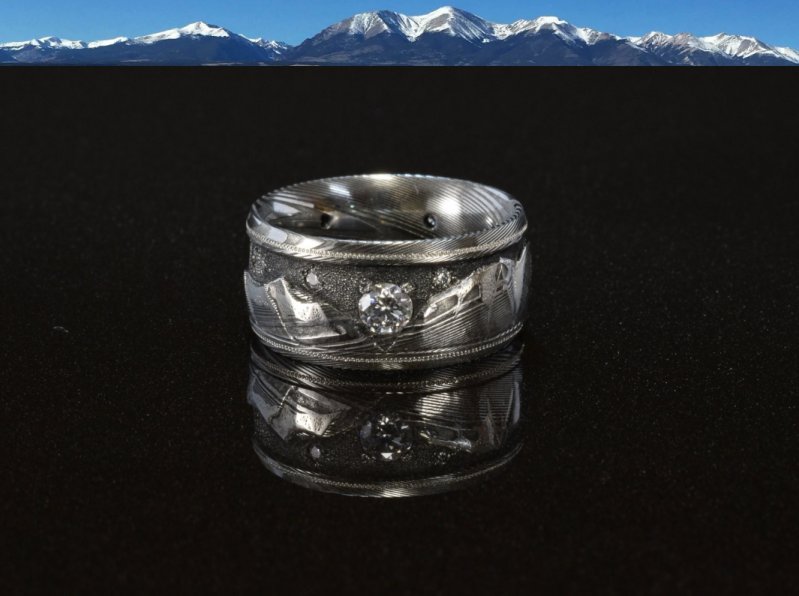 ---
I lost my best and closest friend...
Mila was my whole world. She was full of love and life. She always had to be around people and had to say hello to everyone. I raised her from a pup to be better than I and she was.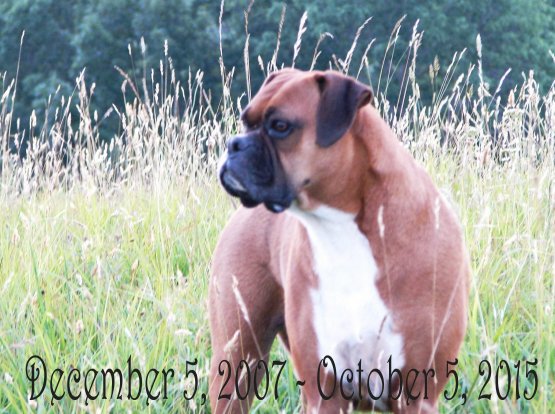 ---
Dan's Wedding Band...
Special thanks to Dan and his photographer for this photo!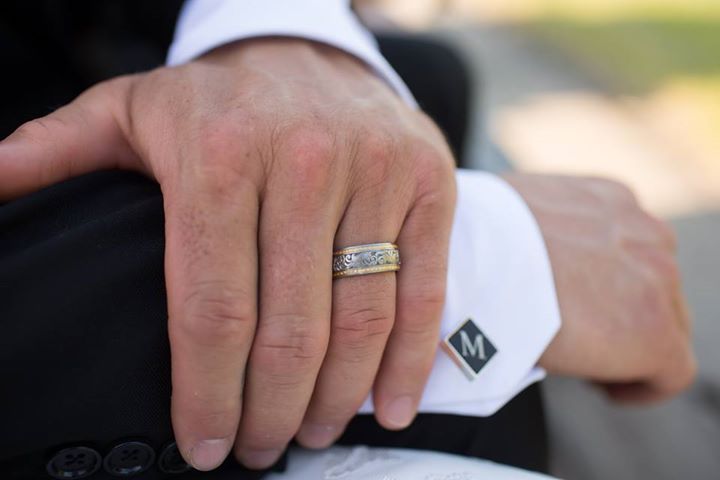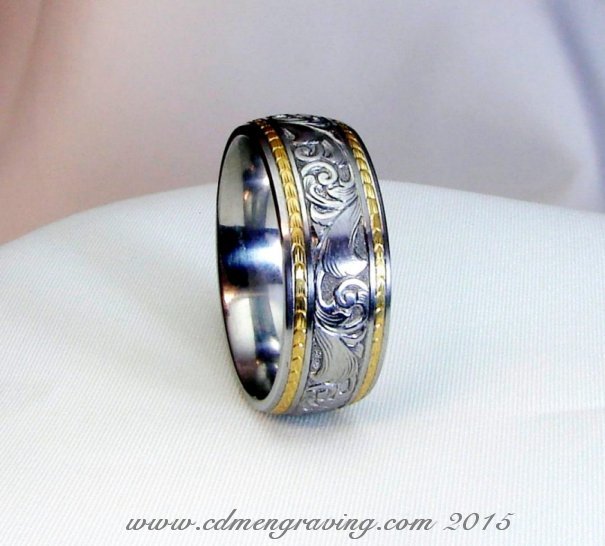 ---
Damascus Signet Ring ...
Sculpted, deep relief with 24k gold "basketweave" background
18k rose gold screw heads in the border
(Click on the photo to see the process)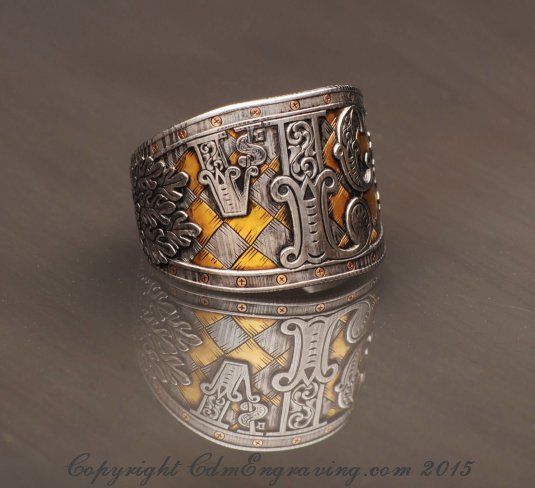 ---
hand engraving, engraved wedding rings, Engraved wedding bands, Damascus weddings bands, jewelry engraving, signet ring engraving, hand engraved wedding bands, hand engraved wedding rings, hand engraved damascus rings, gold and damascus rings, jewelry engraving, hand engraved gifts, monograms, hand engraved monograms, letter engraving, silver engraving

Save
Save
Save
Save
Save
Save
Save
Save
Save
Save
Save
Save
Save
Save
Save
Save
Save
Save
Save
Save
Save
Save
Save
Save
Save
Save
Save
Save
Save
Save
Save
Save
Save
Save
Save
Save
Save
Save
Save
Save
Save
Save
Save
Save
Save
Save
Save
Save
Save
Save
Save
Save
Save
Save
Save
Save
Save
Save
Save
Save
Save
Save
Save
Save
Save
Save
Save
Save
Save
Save
Save
Save
Save
Save
Save
Save
Save
Save
Save
Save
Save
Save
Save
Save
Save
Save
Save
Save
Save
Save
Save
Save
Save
Save
Save
Save
Save
Save
Save
Save
Save
Save
Save
Save
Save
Save
Save
Save
Save
Save
Save
Save
Save
Save
Save
Save
Save
Save
Save
Save
Save
Save
Save
Save
Save
Save
Save
Save